The Cherry Enduro 175!!!
(My Fourth Benelli)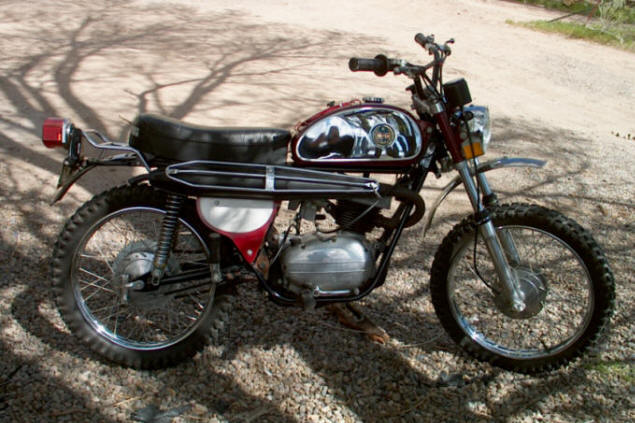 "The Benelli 175 Enduro is a curious motorcycle."

--Modern Cycle Magazine, August 1972

"This great motorcycle is 175cc's of go-for-glory power! A real rider's machine with a 4-speed engine, hydraulic Marzocchi forks and those big, tough knobby tires! This is the perfect cycle for taking on the trails or for the excitement of cross-country adventures! And...talk about climbing power...that's what the Benelli Enduro is all about. When you kick over the Enduro you get out front and you stay out front!"

--Early 1970s Benelli Advertisement,
Cosmopolitan Motors

"The Enduro model sells for $699, and competes directly with Suzuki's 185 Sierra, Yamaha's CT-2 175, and Kawasaki's 175 F7, just to name the more popular ones. These Japanese models all have their faults, to be sure, but all of their faults put together still wouldn't equal the Benelli Enduro's."

-- Dirt Cycle, January 1973



The Author, Visibly Angered...Anguished, Even...
by Those Bad Enduro Reviews!!!

"The Enduro is a gas! A Cougar on Steroids, a Dynamo all grown up! What is both outrageous and obvious about this bike is not that it's a true enduro, but that it's a Benelli pretending to be an enduro, a Benelli all dressed up like an enduro! And really, how could it be anything else? What more could Pesaro have managed? This is a bike that knows itself. The engine is super sweet, worth the price of admission. I give the Enduro two thumbs up! P.S., heard anything from Dirt Cycle magazine lately?"

-- Steven Salemi, Actual Living Benelli Enduro Owner & Rider,
December 2006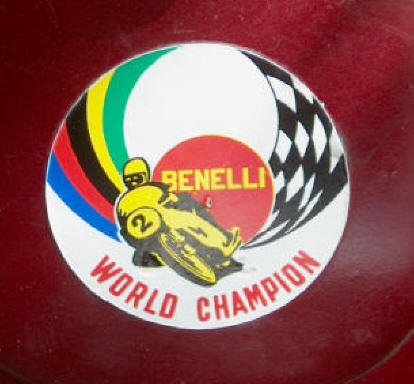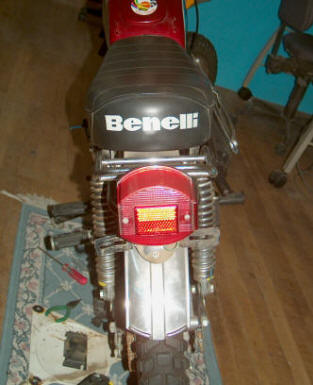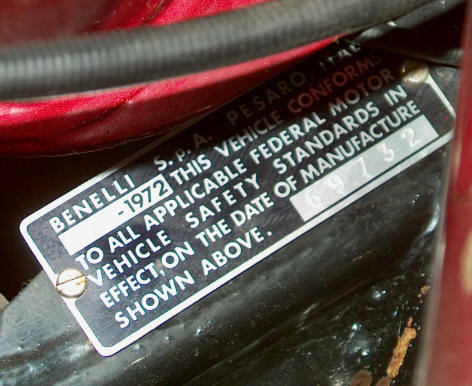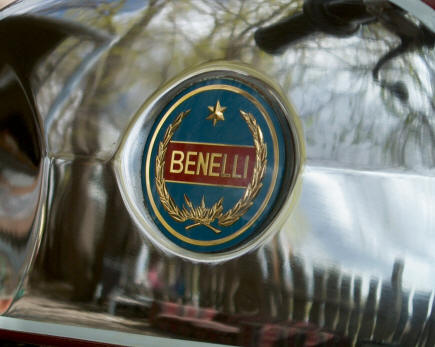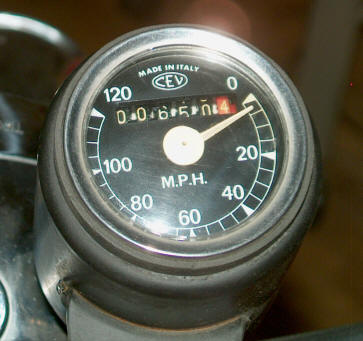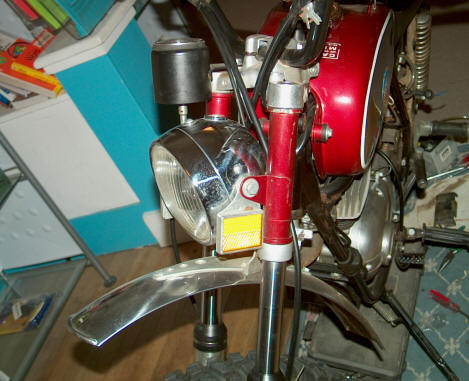 Another internet find, this one from a place called Domi Racer Distributors in Cincinnati, Ohio. Supposedly in close-to-showroom condition (considering its 34 years) with a mere 600 miles on the clock, it's been picked up by my favorite motorcycle shipper, Daily Direct, and is now on the way to Santa Fe, New Mexico. My fingers are crossed....this is a larger-engined (175cc), big brother to the Cougar, which is charming but not exactly a powerhouse at 65cc.
In fact, I have developed a pain in my right wrist which I've traced to driving around with the Cougar at full throttle for hours on end; I've dubbed this condition "Cougar Tunnel Syndrome."
Update: The Enduro Arrives! On December 21st, 2006. Looks good, but missing some necessary carburetor parts -- an idle-speed screw and spring ("A"), and a starting lever (choke actuator; it looks like the little left-pointing shoe in the line drawing below). Won't even try starting it until I get the carburetor complete. Ordered the necessary Dell'Orto spares (along with a rebuild kit) from a great place called Herdan Corporation in Port Clinton, Pennsylvania, (610) 562-3155. Fast, friendly service, and they had all the parts for this 32 year old item in stock and ready to ship! That is totally the way to go! While I wait for the carb parts, I'm installing a brand new 6 Volt battery, fully-charged; stay tuned for news on whether she starts and how well she runs!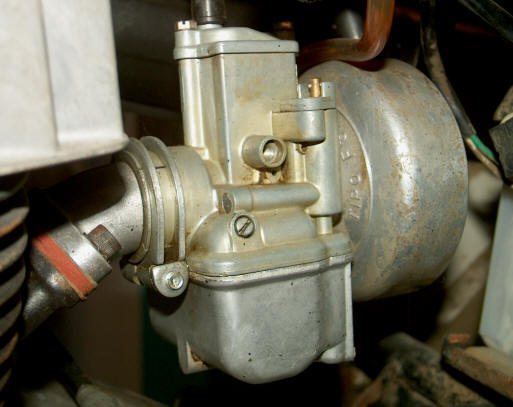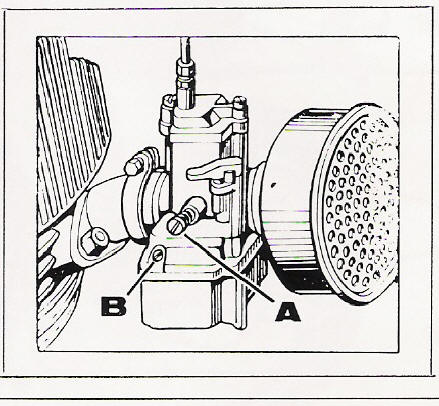 Carburettor is a French Word meaning "Leave It Alone..."
Put the replacement carb parts on (saving the full rebuild for some future date), and the bike started right up! Zowee! But it died a few minutes later due to fuel starvation -- bad petcock (fuel shut off valve). Ordered replacements from multiple sources ( including Bevel Heaven ); meantime, I borrowed a Dynamo petcock from another bike and got it running. Drove it home and parked it in the Benelli Garage, where various tasks await, including freeing up the back brake cable, which is immobile. I'll put the "final" petcock on, and put on a new rubber gas tank strap, neat. I also have to get the kickstand bracket welded; this snapped off due to metal fatigue, ouch. So for now, I have to lean the thing up against the wall like a bicycle, and pray that it stays up. I don't want that gas tank to get dented, ever. Don't dented gas tanks suck? Don't you hate them? I thought so. I sure do!!!
April 26, 2007 Update: The broken Enduro sidestand has been fixed by the incomparable William B. ("Mac") McIntosh of Specialty Welding, Inc. in Santa Fe (505) 986 -0392!
Also ordered a revised main carburetor jet (n 92, in place of the standard n 95) to compensate for the high altitude of Santa Fe, New Mexico (>7,000 feet).
Read Period Benelli Enduro Test Reports Now!!!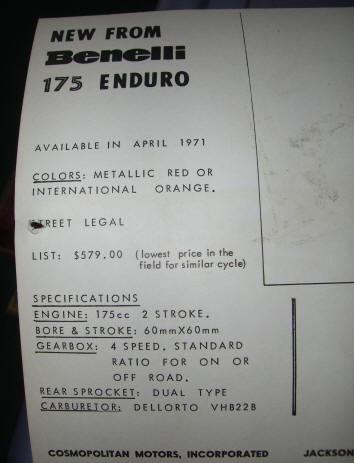 I've been enjoying the Enduro and riding it regularly. The fork seals need replacement, they are leaky and the forks are currently overfilled; I've got the parts but have to find someone to do it (or attempt it myself). It runs and idles pretty well now! The speedometer died at 937 miles and I'm looking for a replacement. The tail lamp assembly disintegrated with age (like the identical unit on my Tornado), I've got a replacement and just waiting for time to fit it. The combination headlamp/horn switch is kind of funky, I've got a few NOS replacements ready for installation. The rear brake lamp switch also disintegrated and I'm looking for a replacement. Otherwise, all sound, brakes work well front and rear, engine strong, cool bike. Gets a lot of attention and admiring looks.