The Nuovo Leoncino 125!!!
("Cobra Scrambler" in The USA)
(My Fifth Benelli - Grrrrrrrrrr....)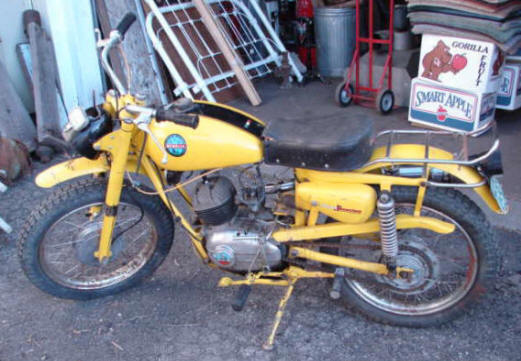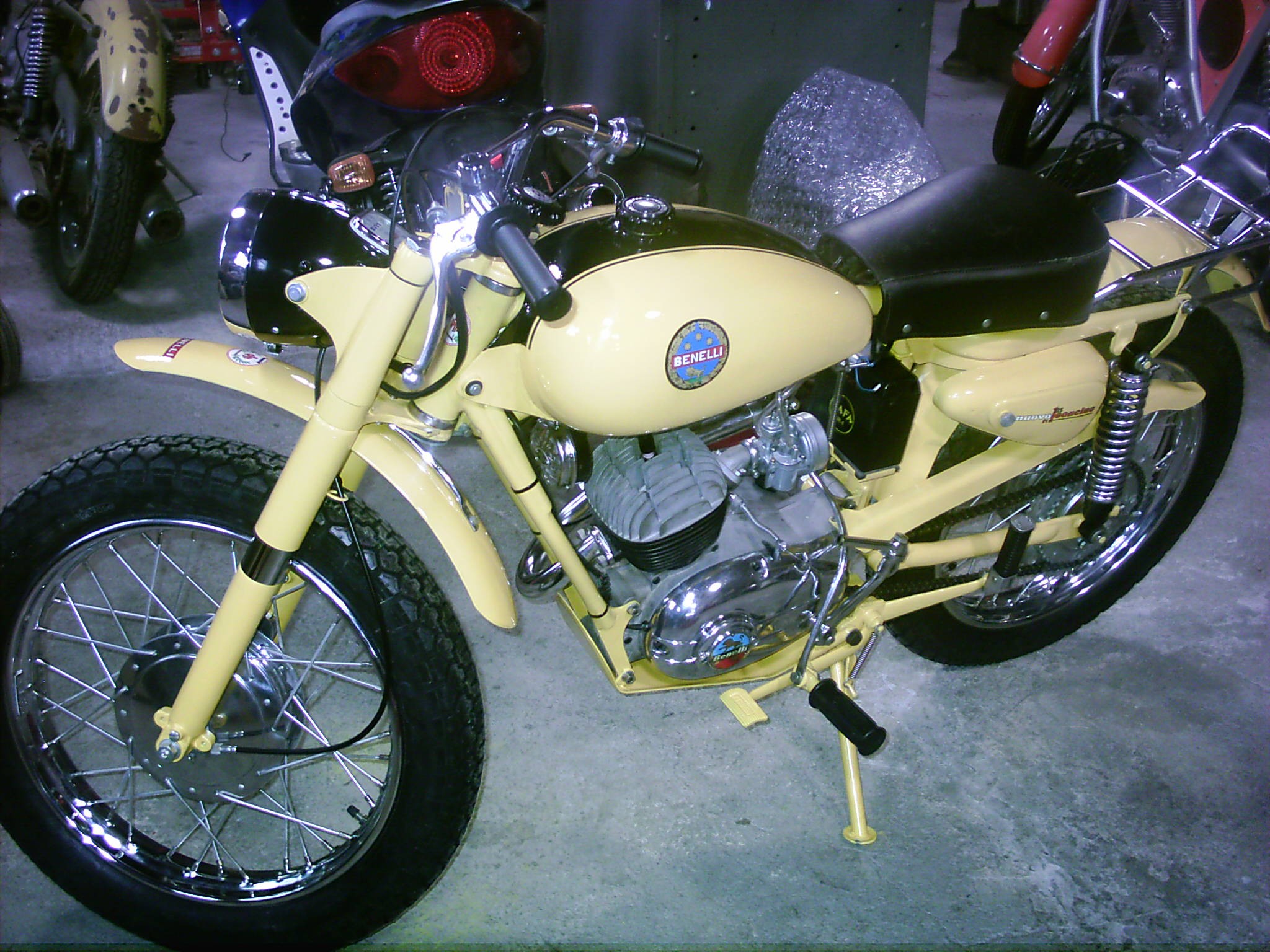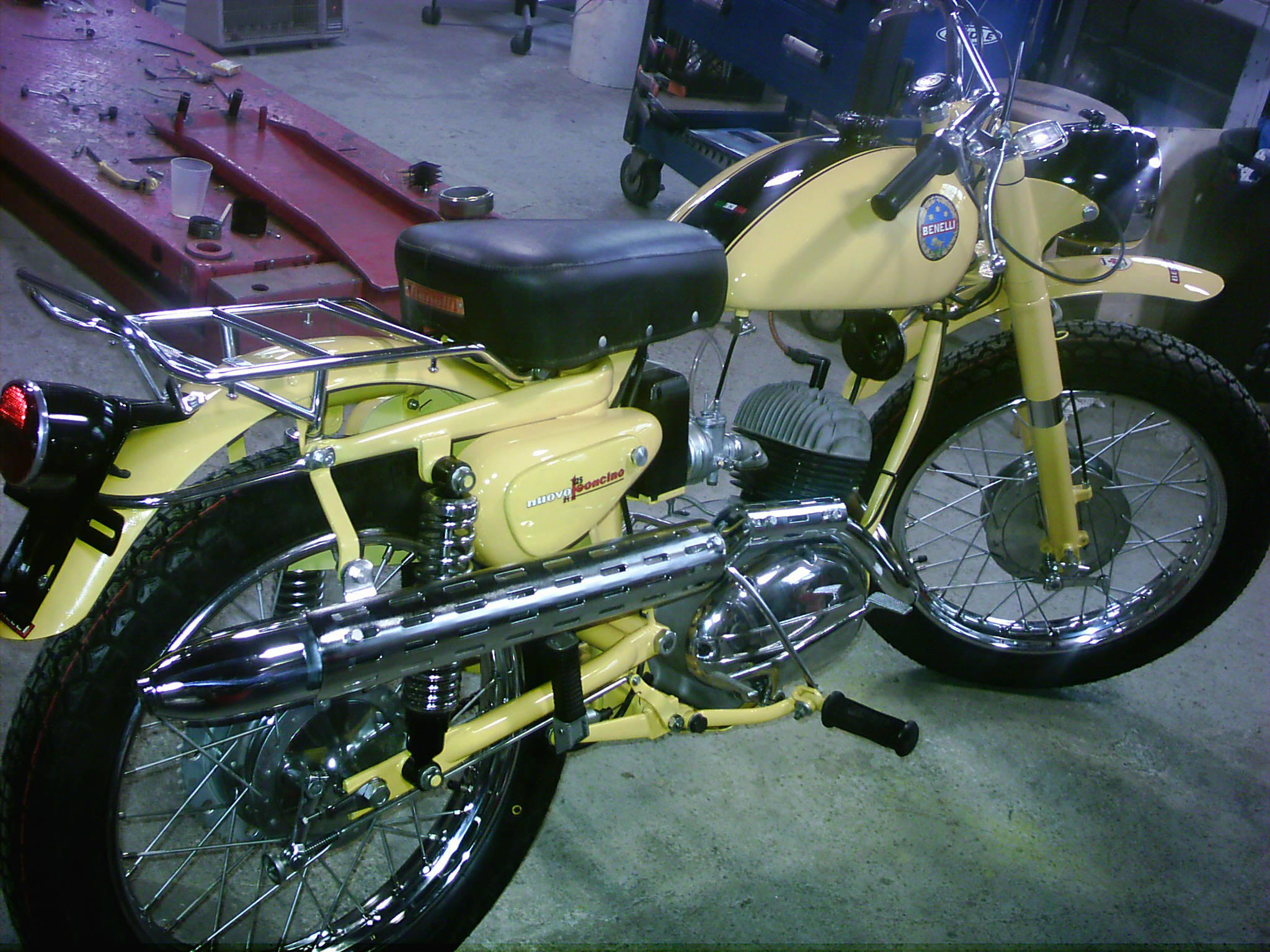 "It was all marketing," says someone who was there. "If Mr. Weiss knew that scramblers were selling,
we'd just pick a bike and call it a Scrambler."


That's how the tame European "Nuovo Leoncino 125" became "The Cobra Scrambler" Stateside!!!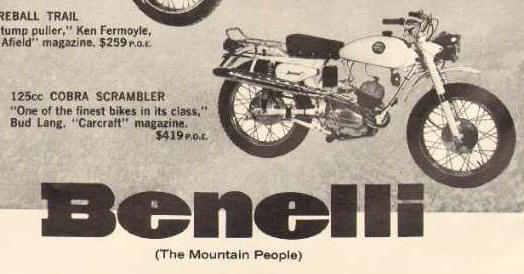 An E-Bay special, and a bargain at under $300!!! Why nobody went for this I'll never know (or perhaps I'll find out). Real vintage bike looks and kicks, at an affordable price! Also to be restored. The bike is in transport now.
Here is the original E-Bay Sales Text:
"Here is a great vintage Italian motorcycle. A Benelli Nuovo Leoncino 125.

I have not been able to figure out the year that this was made. I received an email stating that it was a 65-66. 1965 1966. . But I'm not sure.

This is a very complete bike. I have the headlight cover for it as well.

It is missing the battery and the air filter for the carburetor.

The front fender has a kink in it about 4" from the front tip...looks as if it folded under a bit and was pulled back out.

It is pretty straight...email me if you need pictures of the fender as well.

The seat has a bit of wear but could be stitched and be in great condition.

There is a small dent that I have pictured on the right side of the tank just below the gas cap. It is a very small dent...very hard to see, just thought you should know.

It has both sprockets...the small and the larger power sprocket for off road. This seems like it was kind of a enduro or like the Honda Trail 90.

A very well build bike.

The wheels are straight and turn fine...but there is some corrosion on the chrome rims and spokes.

The tail light cover is missing.

The electrical will need to be gone through as there are a lot of loose wires, mainly in the head light headlight.

The engine kicks over just fine. But does not start at this time. I was told by the previous owner that this ran when it was parked. And a friend that looked at this bike told me that he thought he could easily restore this.

They Say This is a great vintage classic Italian motorcycle. Please let me know if you know the year of this motorcycle.

Great vintage antique related transportation motorcycle motor scooter biker bike collectible. The easiest way to ship this is through Forward Air. They have a motorcycle container that costs approx $400 to ship across country. Add $150 to cover for time and gas to get it to Forward air as they are 4-1/2 hours away from my house.

It is also possible for me to deliver this for a fee to Portland, Seattle, Spokane, Tricities, Bellingham and further if costs are met.

You are also welcome to pick this bike up."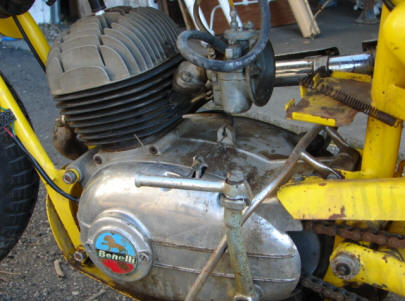 Some Bad News:
Dear Steven,
I've start today to replace your clutch and your seals and just discovery a bad surprise your motor must be split because your secondary shaft is badly ruined. I'm going to publish the Benelli Cobra 125 parts manual and since they have the same Leoncino motor you can see in the exploded view which one is the part ruined. The attached photos will give you an ides of this problem [see your chain tensioner too!!]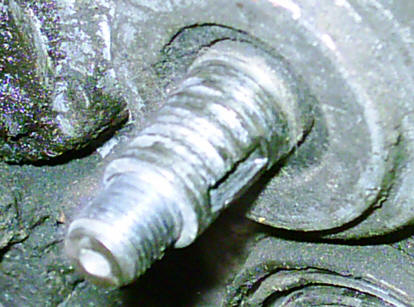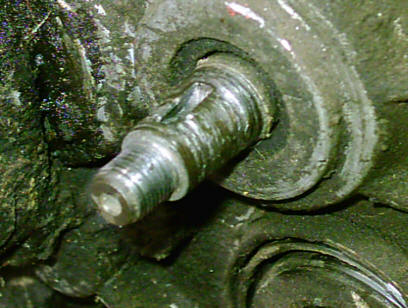 Badly-Damaged Nuovo Leoncino Secondary Shaft, Ouch!!!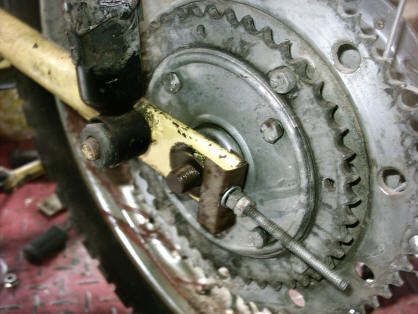 The Chain Tensioner is Shot, also!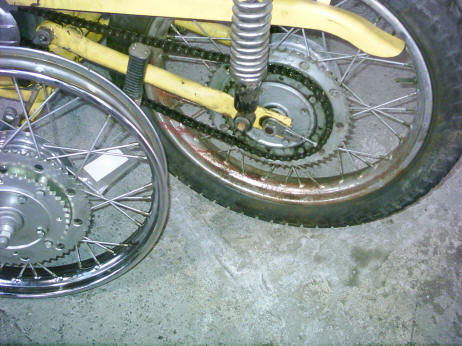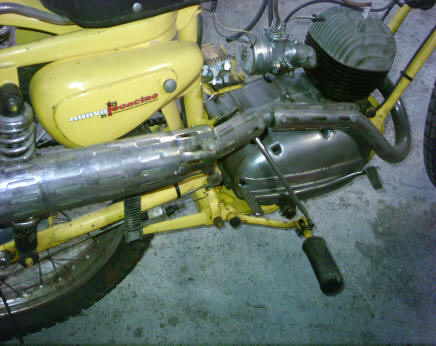 Dateline, October 2007 -- The Leoncino rebuild continues. The small-gauge original European chain sprockets and chain are being replaced with heavier-duty American-Spec items. New carburettor has been fitted. I wanted to keep the original wheels but they are very rusty and Claudio has talked me into new ones, which he insists will make the bike look much, much better (see picture at left). Judge for yourself. At right, things are shaping up, that's a brand new carburettor on there.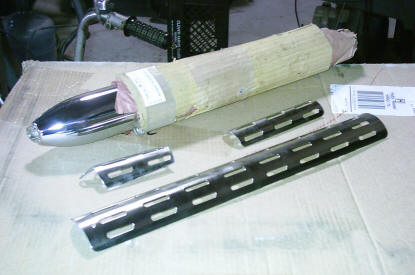 New Old Stock Exhaust System for a 41 Year Old Bike! Too Cool! At right, we will try to retain the original squarish speedometer unit rather than replacing it with the easier-to-find round numbers. 1898 Original Miles on The Not-So-Nuovo Leoncino!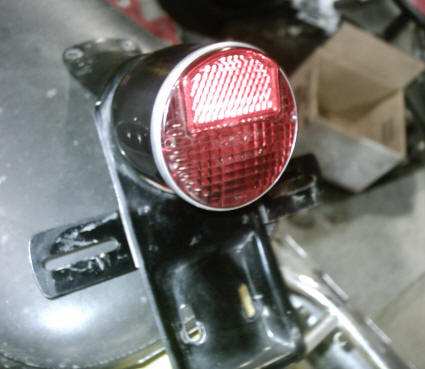 New Replacement Tail-Lamp Looking Good!
SO WHAT'S INVOLVED IN REBUILDING ONE OF
THESE THINGS? READ IT AND WEEP!!!!
Parts List

Engine:
cylinder and complete piston set $ 161.20 + 85.00
carburetor $140
fuel line $2
exaust set: ex pipe-muffler-grills-round brakets
cable set
stop light switch[no bracket and spring]
kick start
shift pedal
front fender small chrome bracket
rear brake rod
6V battery
head lights ears brackets
gas tank stickers
gas tank cap
gasket and seals sets
drive shaft and pinion+ key
crank bearings [2
drive shaft bearing
6 clucth discs[no plates]
points and condenser
two tires and tubes
front hub and brake plate[premium bearings]
36 spokes and nipples
one 18" x 2,5 36 holes rim
speedo gear and cable
complete-rear wheel [stock bearings]
bolts-nuts-washers[various small sizes]
4 nuts M10x1-1 nut M12x1.25
fork frame races and triple tree nuts[2]
chain and link
headlight lens and frame
tail ligth lens and bulb
handlebar-grips-levers
light switch
ignition switch
foot-peg brackets
foot peg rubbers
baggage rack

CFM motorcycles parts and labor
parts and materials
10' [minimun order]8mm wiring harness PVC tube
5' 12mm wiring harness PVC tube
4 sandable primer spray can
3 chrome yellow spray can
3 wheel's rim clear coat [frame-fenders and other painted parts]
5 part cleaner spray can
2 engine cleaner spray can
2 qt multipurpose paint thinner
1/2 qt Sikkens "Benelli yellow" automotive base coat
1/2 qt Sikkens reducer agent
1/2 qt Sikkens autobase solvent
1qt[minimun order for this brand] Sikkens automotive clear coat[gas tank only]
1/2 qt Sikkens clear coat thinner
1/2 Sikkens clear coat activator
Miscellaneus:
sand piper 150 gtit-400 grit-sanding sponge[one 50 grit;two 150 grit;two 360 grit]
Labor description:
engine:
general inspection and removal
engine case splitting -damaged parts replacement
parts cleaning [high temperature part washer machine]
cylinder head sand blasting job
gaskets and seals replacement
crank bearings replacement
crank shaft true-balancing inspection
reassembling gearbox and gear selector; clutch; crankshaft, cylinder, cylinder head
piston set; generator; points and condenser; flywheel, chain drive pinion,
carburetor, throttle cable
reassembling on frame and firing up: fine tuning
removing engine from the frame to performing painting job.
full bike disassembling
front fork disassembling and stretch fork tubes.
old paint removal and or primer filled
[sand blasting; steel brush wheel; flap wheel
sand paper ]
fork race bearings replacement
fork seals replacement
seat upholstery job[1 hour to go and the same to return back x 2 time]
repaint all new shelf body parts in different colors
repair on front and rean fenders[new not in stock]
rebuilt main wiring harness
ignition switch reconditioning job[original unavailable]
repaint headlight shell
repaint tail light assembly
tail light bulb socket and reflector repair job
Benelli 175 "Trial" baggage rack alteration
American style sprocket set disassembling and replacement with the matching Italian style
front wheel reassembling: hub-bearings-spokes-nipples-rim-new shaft
Gas tank repaint job including the center black strip remake and stickers assembling
rebuild gas tank mounting bushings [unavailable new]
steering damper clutch restoration
rear left shock absorber repair job
shock absorbers cosmetic job
chain cover restoration
engine's under shell repair job
rebuild half round rear fender bracket
rear brake pedal stretching job
Speedometer repair and cosmetic job
ARE WE DONE YET? ALMOST!!!
Click Here for Some Cool Pictures of Other Benelli Leoncinos!